2017 NEIBA All-Star Game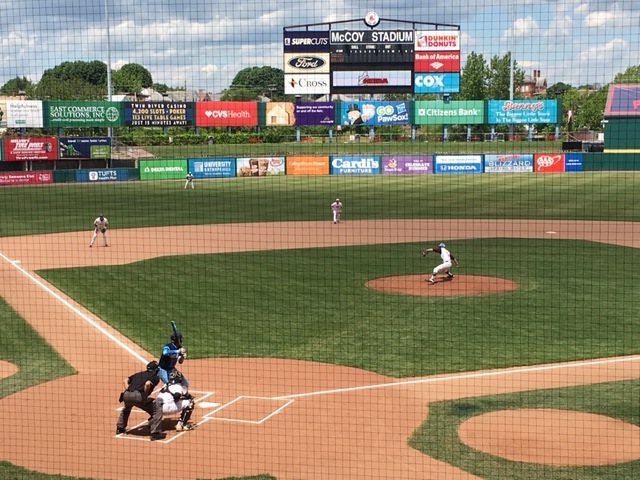 2017 NEIBA All-Star on June 2, 2017 at McCoy Stadium in Pawtucket, R.I.

College Division Rallies to Tie University Division in 2017 NEIBA All-Star Game
Southern Connecticut State University's Nick Lamberti drove in Owls' teammate Greg Zullo with the tying run in the bottom of the eighth inning as the College Division (Division II/III) squad rallied for a 3-3 tie against University Division (Division I) team in the 2017 Joe Walsh New England Intercollegiate Baseball Association (NEIBA) All-Star Game on Friday afternoon at McCoy Stadium in Pawtucket, R.I.
Mike Corin of the University of Rhode Island hit a two-run homer in the top of the fourth inning on his way to earning most valuable player honors. Matt Tulley of UMass Boston was selected as the NEIBA All-Star Game Most Valuable Pitcher after recording one strikeout in a perfect third inning.
Prior to the game a ceremony was held on the field to honor the 2017 NEIBA award winners and the organization's inaugural hall of fame class.



ALL STAR GAME INFO & HISTORY

| | | | | |
| --- | --- | --- | --- | --- |
| 2017 | College 3 | University 3 | Box | Recap | Rosters | McCoy Stadium |
| 2016 | | | Cancelled-Weather | Rosters | Fitton Field |
| 2015 | | | Cancelled-Weather | Rosters | LaLacheur Park |
| 2014 | University 8 | College 7 | Box | Rosters | LaLacheur Park |
| 2013 | | | Cancelled-Weather | Rosters | LaLacheur Park |
| 2012 | University 5 | College 3 | Box | Recap | Rosters | Campanelli Stadium |
| 2011 | College 3 | University 3 | Box | Recap | Rosters | LaLacheur Park |
| 2010 | College 2 | University 0 | Recap | Recap2 | Rosters | Fenway Park |
| 2009 | University 11 | College 0 | Box | Recap | Campanelli Stadium |
| 2008 | College 6 | University 3 | Recap | Fenway Park |
| 2007 | College 2 | University 0 | Rosters | Fenway Park |
| 2006 | University 2 | College 1 | Box | Recap | Fenway Park |
| 2005 | University 8 | College 2 | Box | Recap | Rosters | Fenway Park |
| 2004 | College 9 | University 6 | Rosters | Fenway Park |
| 2003 | College 5 | University 3 | Box | Recap | McCoy Stadium |
| 2002 | University 7 | College 5 | | Fenway Park |
| 2001 | College 18 | University 1 | | Fenway Park |
| 2000 | University 8 | College 2 | | Dodd Stadium |
| 1999 | College 4 | University 3 | | |
| 1998 | University 8 | College 0 | | |
| 1997 | University 5 | College 3 | | |
| 1996 | University 3 | College 2 | | Fenway Park |
| 1995 | University 5 | College 0 | | |
| 1994 | University 5 | College 3 | | Fenway Park |
| 1993 | University 6 | College 5 | | |
| 1992 | University 6 | College 3 | | Fenway Park |
| 1991 | University 8 | College 7 | | |
| 1990 | University 13 | College 3 | | Fenway Park |
| 1989 | University 4 | College 2 | | |
| 1988 | University 7 | College 4 | | |
| 1987 | University 7 | College 3 | | |
| 1986 | University 0 | College 0 | | |
| 1985 | University 5 | College 1 | | |
| 1984 | College 2 | University 1 | | |
| 1983 | College 1 | University 0 | | |
| 1982 | College 11 | University 6 | | |
| 1981 | East 3 | West 2 | | |
| 1980 | University 4 | College 1 | | |
| 1979 | College 3 | University 2 | | |
| 1978 | University 8 | College 3 | Rosters | Gill Stadium |
| 1977 | University 4 | College 3 | | |
| 1976 | College 9 | University 1 | | |
| 1975 | University 8 | College 0 | | |
University: 24 Wins
College: 12 Wins
3 Ties
1981 Game played as East vs. West